A variety of training and study meetings

 Pin adjuster training
Pin adjusting technicians have suddenly dropped in numbers, and the number of shops with staff who don't even know the basic striking methods is growing. In this training adjustment tool usage, basic pin striking methods, and separate adjustment and stages for seven machines and hanemono machines are taught. Through repetition of lectures, hands on training and tests, participants build reliable skills.
---
 Customer service training
Basic training for employment in the service industry. We offer a variety of contents including customer service basics, trouble management and claim processing. We aim to improve staff motivation while adhering to shop customer service policy. In addition, we also hold new recruit training on topics such as business manners and workplace manners.

---
 New recruit training
Beginning with industry history, relationships with peripheral industries and other current industry condition topics, this training teaches detail industry information including "game machine structure", "vocabulary and lingo" and "figure calculation". This training provides opportunities to think about "what work entails" including work methods and customer service concepts.
---
 Financial strategy seminars
Our staff, who have long years of experience in financial management of halls, provide a variety of advice for reevaluation of everything from finances to management. These seminars teach about how to procure funds and how to effectively management funds in these tough times as well as encouraging thought about what management roles are.





 Financial seminars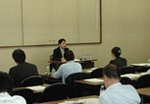 Financial seminars are seminars which are aimed at financial institutions, investors and other parties who are involved in pachinko management business dealings. The seminars consist of explanations of industry trends and financial information, financial conditions and business restructuring examples as well as serving as places and opportunities for information exchange.







Internal audit seminars
Business calculation seminars
Industry aimed seminars
Study meetings held for members